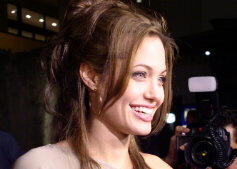 Birthday: June 4, 1975

Birthplace: Los Angeles, CA

Notable Achievements:


-Won an Academy Award for Best Supporting Actress in "Girl, Interrupted."
-Took home Screen Actors Guild Awards for her work in "Gia" and "Girl, Interrupted."

Items of Note:
-Angelina Jolie is well known for her work with various charities, and works as a Goodwill Ambassador for the United Nations.
-Jolie has numerous tattoos including one of the letter 'H' in honor of her brother James Haven.

Angelina Jolie Biography (Courtesy of Warner Bros. and "Taking Lives"):


March 18, 2004 - Academy Award and three time Golden Globe winner Angelina Jolie is proving to be one of Hollywood¡¦s most talented leading actresses. Jolie most recently starred in the title role in the action adventure "Lara Croft: Tomb Raider ¡V The Cradle of Life," the sequel to the 2001 box-office smash, and starred as a devoted relief worker for the United Nations in the provocative drama "Beyond Borders."

Jolie¡¦s portrayal of a mental patient in "Girl, Interrupted" garnered an Academy Award, her third Golden Globe Award, a Broadcast Film Critics Award, ShoWest¡¦s ¡§Supporting Actress of the Year,¡¨ and a Screen Actors Guild Award for ¡§Best Supporting Actress.¡¨ The film, based on the true story by Susanna Kayson, was directed by James Mangold and co-starred Winona Ryder.

The HBO film "Gia" earned Jolie critical praise as well as a Golden Globe Award, a Screen Actors Guild Award and an Emmy nomination for her portrayal of the supermodel who died of AIDS. She also received an Emmy nomination for her role opposite Gary Sinise in director John Frankenheimer¡¦s "George Wallace," a period epic for TNT about the controversial Governor from Alabama. The film earned Jolie her first Golden Globe Award and a Cable Ace nomination for her portrayal of George Wallace¡¦s second wife, Cornelia.

Jolie recently wrapped production on a number of projects including the action/adventure "Sky Captain and the World of Tomorrow" with Jude Law and Gwyneth Paltrow, and Oliver Stone¡¦s epic "Alexander." She is currently working on "Mr. and Mrs. Smith," co-starring with Brad Pitt, and will lend her voice to the animated feature "Shark Tale," directed by the creators of Shrek and also featuring the voices of Will Smith, Robert De Niro and Jack Black. A member of the famed MET Theatre Ensemble Workshop, Jolie trained at the Lee Strasberg Theatre Institute and has also studied with Jan Tarrant in New York and Silvana Gallardo in Los Angeles.