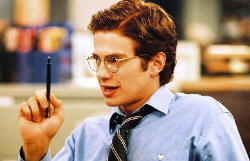 Hayden Christensen became an international film star when George Lucas cast him as Anakin Skywalker in the blockbuster epic "Star Wars: Episode II - Attack of the Clones." But it was the role of a troubled teenager he portrayed in Irwin Winkler's drama "Life as a House" for which Christensen first received acclaim, including an award for Best Breakthrough Performance from the National Board of Review and nominations for the Screen Actors Guild award and the Golden Globe award.

Christensen is currently on location in Sydney, shooting ¡§Star Wars: Episode III,¡¨ which will be released in the summer of 2005.

Christensen broke into acting in an unusual way.

His older sister, a Junior World Trampoline champion, had done a commercial endorsement for Pringles. As he recalls, "When she went to meet a talent agent, there was no one to baby-sit me so I went along for the ride." The agent offered to sign Hayden as well, and at 7 years old, he began acting. By the time he was 12, he had a continuing role in the first Canadian television soap opera, the daily "Family Passions."

Christensen was a regular on the Fox Family Channel series "Higher Ground," and was featured in Sofia Coppola's acclaimed debut film "The Virgin Suicides." His other film credits include Sarah Kernochan's "All I Wanna Do" and John Carpenter's "In the Mouth of Madness." Other television credits include "Purple Haze" and "Free Fall."

Christensen was born in Vancouver (April 19, 1981), but his family later moved to the Toronto area, where he went to school and currently resides.

--Biography supplied by Lions Gate Films in support of Hayden Christensen's role in the crime drama, "Shattered Glass."