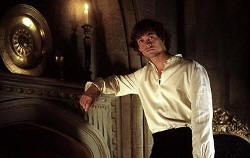 Birthday: 1975

Place of Birth: Stoke-on-Trent, Staffordshire, England

Physical Characteristics:


5'11', blue/grey eyes, with dark brown hair

Education:
Studied English Literature and Language at Oxford University

Hugh Dancy Biography (Courtesy of Miramax Films and "Ella Enchanted"):


March 31, 2004 - Hugh Dancy, who was chosen as Prince Char after extensive London auditions, is a quickly rising young British star whose most recent screen credits include the romantic thriller "Tempo" opposite Melanie Griffith and Rachel Leigh Cook and in Ridley Scott・s critically acclaimed war drama "Black Hawk Down." He will next go from playing Prince Charmont in "Ella Enchanted" to playing Galahad in Antoine Fuqua・s "King Arthur."

Born in Stoke-on-Trent, Staffordshire, England, Hugh was first cast in the British television series "Trial And Retribution II," followed by BBC's "Dangerfield" and an appearance in "Kavanagh QC." Dancy was then chosen to portray the title role for the new Hallmark/TNT production of "Charles Dicken・s David Copperfield," going on to star in the second series of Granada Television・s popular "Cold Feet" and the BBC adaptation of "Madam Bovary."

Dancy also portrayed D'Artagnan in "Young Blade," followed by the feature "The Sleeping Dictionary," filmed on location in Sarawak. On stage, Dancy has starred in "Billy and the Crab Lady" at the Soho Theatre and "To The Green Fields Beyond," directed by Sam Mendes.