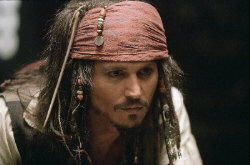 In his younger years, Johnny Depp was wild, reckless and rebellious. After dating a bevy of Hollywood's most beautiful stars, he now credits the birth of his daughter as having brought focus into his life.

QUICK FACTS:
-Born on June 9, 1963 in Owensboro, Kentucky, but grew up in Florida

-Played in the rock band "Kids," before getting into acting

-First major starring role was in "Nightmare on Elm Street"

-His breakthrough role was playing Detective Tim Hanson on the TV show, "21 Jump Street"

-Some of his credits include "Fear and Loathing in Las Vegas," "Blow," "Edward Scissorhands," "Sleepy Hollow," "Pirates of the Caribbean," "What's Eating Gilbert Grape," and "Cry-Baby."