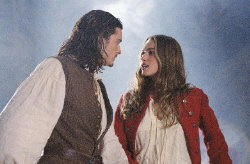 Courtesy of Disney Pictures

At the age of 18, Keira Knightley (Elizabeth Swann in "Pirates of the Caribbean") possesses the grace and charisma of an actress twice her age. Despite being 17 when principal photography began on "Pirates of the Caribbean: The Curse of the Black Pearl," she met the many challenges presented by a difficult and physically taxing role with excitement and ardor.

Knightley can currently be seen in the worldwide sleeper hit "Bend it Like Beckham" as Jules Paxton opposite Parminder K. Nagra. She is currently at work on the newest Jerry Bruckheimer Films production, ¡§King Arthur.¡¨ The film, directed by Antoine Fuqua, begins shooting in Ireland in July.

Knightley portrays Guinevere opposite Clive Owen as Arthur.¡@

Set for release in early November 2003 is ¡§Love Actually,¡¨ with Knightley as part of an impressive ensemble cast that includes Colin Firth, Hugh Grant, Laura Linney, Liam Neeson, Alan Rickman and Emma Thompson. She also stars in the upcoming film ¡§Pure,¡¨ which is currently scheduled to open in December 2003.

Among Knightley¡¦s additional credits are ¡§The Hole,¡¨ ¡§Princess of Thieves,¡¨ ¡§Star Wars: Episode I - The Phantom Menace,¡¨ ¡§The Beginning¡¨ and ¡§Innocent Lie.¡¨

Quick Facts:
-Daughter of actor Will Knightley
-First role was at the age of 9 in "A Village Affair"
-Born on March 22, 1985 in London

Biography provided by Walt Disney Pictures in promotion of "Pirates of the Caribbean: The Curse of the Black Pearl," with the exception of the 'Quick Facts' section.