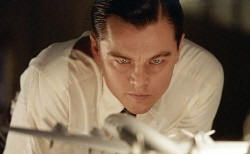 Birthday: November 11, 1974

Place of Birth: Hollywood, CA (how fitting)

Role That Got Him Noticed by Critics:


Playing Johnny Depp's autistic kid brother in "What's Eating Gilbert Grape?", which earned him an Academy Award nomination for Best Supporting Actor in 1994.

Role That Made Him a Teen Hearthrob:
Starring in a little movie called "Titanic."

Leonardo DiCaprio Biography (Courtesy of Miramax and "The Aviator"):

Nov. 30, 2004 - Leonardo DiCaprio was born in Hollywood, California in 1974 and attended Seeds Elementary School at UCLA where he took summer courses in performance art before moving to the Center for Enriched Studies in Los Angeles. After Seeds, Leonardo attended John Marshall High School in Los Feliz where he acted in his first real play, Circus Fantasy. In 1988, at fourteen, Leonardo began appearing in a series of commercials and educational films. Later that year, he made his television debut in the syndicated Saturday morning revival of the classic "Lassie."

Leonardo was cast for his first feature film, "Critters III," in 1991, and shortly after, he was invited to join the cast of the ABC sitcom "Growing Pains." Michael Caton-Jones then cast Leonardo in the much sought-after role of Tobias Wolff in his big-screen adaptation of Wolff's best-selling novel "This Boy's Life" in which Leonardo starred alongside Robert De Niro and Ellen Barkin.

In 1993, Swedish director Lasse Hallstrom cast Leonardo in the role of Arnie in the critically acclaimed film What's Eating Gilbert Grape?

In 1995, Leonardo played opposite Sharon Stone and Gene Hackman in Sam Raimi's "The Quick and the Dead," and the same year starred in the film adaptation of Jim Carroll's gritty autobiographical memoir "The Basketball Diaries."

As one half of the star-crossed lovers in Australian director Baz Luhrmann's screen adaptation of William Shakespeare's "Romeo + Juliet," Leonardo was paired with Claire Danes. He was also featured the same year as Meryl Streep's delinquent-to-the-point-of-criminal son in "Marvin's Room." In 1996, Leonardo starred in James Cameron's Academy Award winning film "Titanic" opposite Kate Winslet.

Next, he starred in "The Man in the Iron Mask." Leonardo owned the number one box-office position for the better part of 1998 with "Titanic" and virtually knocked himself out of the top spot with "The Man in the Iron Mask."