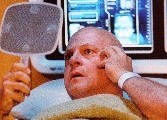 Michael Chiklis' Birth Date: August 30, 1963

Place of Birth: Lowell, Massachusetts

Nicknames:


Chick or Chicky

Personal Facts:
Michael Chiklis married Michelle Moran in 1992. The couple has two daughters.

Role That Really Got Him Noticed:


It wasn't until Michael Chiklis got hired to star in the TV series, "The Shield," that the actor really gained a following.

Physical Attributes:
5'9", 195 lbs

Michael Chiklis Biography (Courtesy of 20th Century Fox and "Fantastic Four"):


July 2005 - Michael Chiklis ('The Thing' in "Fantastic Four") made his return to series television with a starring role on FX's first original drama series ¡§The Shield,¡¨ a critically acclaimed one-hour police drama. His remarkable performance garnered Chiklis a Golden Globe Award for Best Actor in a Drama Series, an Emmy® win for Outstanding Lead Actor in a Drama Series, as well as the Television Critics Association Award for Best Drama Actor. His Emmy win marked the first time that a lead performer in a show airing on a basic cable channel has won in this category.

Chiklis began entertaining his family with celebrity imitations when he was just five years old. As a child, Chiklis appeared in regional theater productions and earned his Equity card when he was just thirteen. He later attended Boston University School of Performing Arts where he received his B.F.A.

Just days after graduation, Chiklis auditioned for the role of John Belushi in the controversial film "Wired," a part he landed three years later.

In 1991 Chiklis landed the title role on ¡§The Commish,¡¨ which aired on ABC from 1991-1996. Chiklis portrayed Tony Scali, a tough but fair-minded police commissioner who was beloved by his fellow officers. The role was based on an actual New York state police commissioner and originally called for an older man, but Chiklis won the producers over and made the role his own.

After that show wrapped, Chiklis went to Broadway and starred in the one-man show "Defending the Caveman." His film credits include "The Tax Man," "Do Not Disturb" with William Hurt and Jennifer Tilly, "Last Request" and "Body and Soul." His additional television credits include a roll as Chris Woods, the stay at home father on the NBC comedy "Daddio," as well as a starring role as Curly in the ABC movie "The Three Stooges."

Next up for Chiklis is an independent feature film "Rise," a horror thriller directed by Sebastian Gutierrez, also starring Lucy Liu.