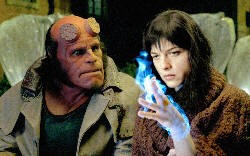 Birthday: June 23, 1972

Place of Birth: Southfield, Michigan

Role That Got Her Noticed:


As Cecile in "Cruel Intentions," also starring Reese Witherspoon and Ryan Phillippe

Significant Other:
Married Ahmet Zappa in 2004

Selma Blair Biography (Courtesy of Revolution Studios and "Hellboy"):


March 30, 2004 - Selma Blair ('Liz Sherman' in "Hellboy") is one of our most exciting and versatile young actresses. She earned rave reviews for such wildly diverse roles as .V・ in Todd Solondz・s "Storytelling" and .Cecile・ in "Cruel Intentions." For "Cruel Intentions," Blair was nominated for an MTV Movie Award for :Best Breakthrough Performance; and won for :Best Kiss.;

After graduating from high school in Michigan, Blair moved to New York to pursue her goal of being a photographer, but found her way to acting classes at The Stella Adler Conservatory and The Column Theatre. She was spotted by an agent and, one week later, got her SAG card for doing a television commercial.

Her other film roles include Dana Lustig・s "Kill Me Later" and opposite Cameron Diaz in "The Sweetest Thing." She will next be seen as .Ursula Udders・ in John Waters・ "A Dirty Shame" opposite Tracey Ullman.