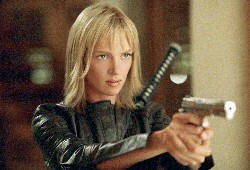 Birthday: April 29, 1970

Place of Birth: Boston, Massachusetts

Interesting Fact:


Named after a Hindu goddess

Uma Thurman Biography (Courtesy of Miramax and "Kill Bill"):
March 31, 2004 - Uma Thurman has proven herself to be one of the most versatile young actresses around, playing a wide variety of compelling characters. The daughter of a psychologist and a college professor, Thurman was raised in Amherst, Massachusetts and Woodstock, New York. She attended a preparatory school in New England, where at fifteen she was discovered by two New York agents. At 16 she transferred to the Professional Children's School in New York City to pursue an acting career.

Thurman first came forcefully to public attention in 1988, when she segued from Johnny Be Good, opposite Anthony Michael Hall, to an eye-catching cameo as Venus on the half shell in Terry Gillian's epic fantasy The Adventures of Baron Munchausen (1998). She went on to receive world-wide critical acclaim in her third movie, for her portrayal of a virginal 18th century convent girl, Cecile de Volanges, in Stephen Frears' Dangerous Liaisons.

Thurmanˇ¦s career has been defined from the beginning by a bold but highly selective choice of roles and collaborators: no commercial throwaways allowed. The following year she starred for adventurous director Philip Kaufman in Henry & June, playing the neurotic and exotic bisexual spouse of archetypal bohemian novelist Henry Miller.

In 1996, Thurman received an Academy Award nomination for Quentin Tarantino's Pulp Fiction, in which she played Mia Wallace, a sexy and comedic mobster's wife. Later that year, she was seen in the period romance A Month by the Lake, with Vanessa Redgrave, and the contemporary romance Beautiful Girls, directed by Ted Demme. Thurman next appeared in The Truth About Cats And Dogs, Batman & Robin, Gattacca, Les Miserables, and The Avengers.

Thurman recently produced and starred in the HBO film, Hysterical Blindness, directed by Mira Nair, with Juliette Lewis and Gena Rowlands. She won a 2003 Golden Globe for Best Actress for her portrayal of Debby Miller in the film, and was nominated for a SAG Award.