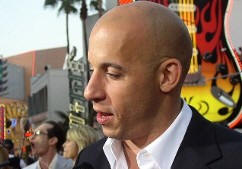 Birthdate: July 18, 1967

Place of Birth:

New York, New York

Role That Really Got Him Noticed:
Starring with Paul Walker in "The Fast and The Furious"

Interesting Fact:


Diesel formed Tigon Studios, a video game company. His first project features his Richard B. Riddick character and is titled "The Chronicles of Riddick: Escape from Butcher Bay."

Upcoming Projects (as of June 2004) :
"The Pacifier"-Diesel's first comedy follows an undercover agent, who, after failing to protect an important scientist, learns that the scientist・s family is in danger. In an effort to redeem himself, he agrees to take care of the man・s children, only to discover that child care is his toughest mission yet. Next Diesel will produce and play the title role in "Hannibal," which tells the story of the Carthaginian general who rode an elephant across the Alps to attack Rome in the 3rd Century B.C.

Personal Facts:


Vin Diesel's birth name is Mark Vincent, and he has a non-identical twin brother (Paul) who works as a film editor.

Vin Diesel Biography (Courtesy of Universal Pictures):
A native of New York City, Vin Diesel ('Riddick'/Producer) has become one of Hollywood・s most sought-after film stars. Diesel will next be seen in the highly anticipated science fiction feature, "The Chronicles of Riddick," in which he reprises the title role of Richard B. Riddick. Produced by Diesel・s company, One Race Productions, the film is the follow-up to "Pitch Black."

He was most recently seen in the action-thriller "A Man Apart," which he also produced. Topping Diesel・s list of credits is his star turn in "The Fast and the Furious," for which he won an MTV Movie Award for Best On-Screen Team and was nominated for Best Male Performance. He also starred in the blockbuster "XXX," which he executive-produced. In addition, Diesel appeared in "Saving Private Ryan," for which he was nominated for a SAG Award as part of the film・s ensemble cast. Other credits include roles in "Boiler Room," "Knockaround Guys" and the voice of the title character in "The Iron Giant," which won an Annie Award for Best Animated Feature.

Prior to appearing in these well-known features, Diesel wrote, produced, directed and starred in the indie short "Multi-Facial," which explored the issue of being multi-racial in today・s society. The film follows Diesel, where he is told he is either :too black; or :too white; for the part. Director Steven Spielberg created the role of Private Caparzo specifically for him in "Saving Private Ryan" after seeing the short. In addition, Diesel also penned, produced, directed and starred in the full-length feature "Strays." The drama was selected to compete at the 1997 Sundance Film Festival.

Raised in Greenwich Village, Diesel gave his first stage performance at the age of seven at Theatre for the New City in Greenwich Village and continued to work in theatre throughout his childhood. After high school, he enrolled at Hunter College, where he majored in English with a concentration on creative writing. It was soon after that he began writing screenplays.