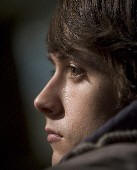 Justin Chatwin's Birth Date: According to IMDB, Justin Chatwin was born on October 31, 1982.

Place of Birth: Nanaimo, British Columbia, Canada

First Credited Year:

Justin Chatwin began his acting career in 2001.

Breakthrough Role:: Playing Tom Cruise's son in Steven Spielberg's "War of the Worlds."

Justin Chatwin Biography (Courtesy of Paramount and "War of the Worlds"):


June 2005 - Justin Chatwin ('Robbie' in "War of the Worlds") most recently starred opposite Ralph Fiennes, Glenn Close, Rita Wilson, and Allison Janney in the Newmarket film, "The Chumscrubber." Chatwin will also appear in the upcoming Showtime pilot "Weeds," co-starring Mary Louise Parker and Elizabeth Perkins.

Chatwin first garnered recognition for his starring role in the USA miniseries "Traffic," directed by Stephen Hopkins. Based on his performance in the program, Newsweek magazine singled him out as an Actor to Watch. He also co-starred with Angelina Jolie and Ethan Hawke in the Warner Bros. thriller, "Taking Lives."

The son of an engineer father and an artist mother, Chatwin was born and raised on Vancouver Island (Nanaimo), British Columbia. He fell into acting by accident at age 18 when a friend dared Chatwin to join him on an audition. It was then that he fell in love with acting - he got an agent immediately after.